On June 11-12, 2018, Vice President Professor Hsiu-Hung Wang, accompanied by KMU delegates, Dean for College of Nursing (CoN), Professor Ruey-Hsia Wang, Dean for College of Health Sciences (CoHS), Professor Yeou-Lih Huang, and Administrative Coordinator, Ms. Aerin Huang, represented KMU to sign university-wide MoU with Ibaraki Prefectural University of Health Sciences, Japan (IPUHS). On June 11, IPUHS planned campus tour to university hospital and OSCE classroom for clinical training. Vice President's invited speech was followed successively by singing ceremony, press conference and a meeting to exchange ideas to explore future collaborations. Two day's schedule was tight but fruitful and there were many potential academic communications to follow up.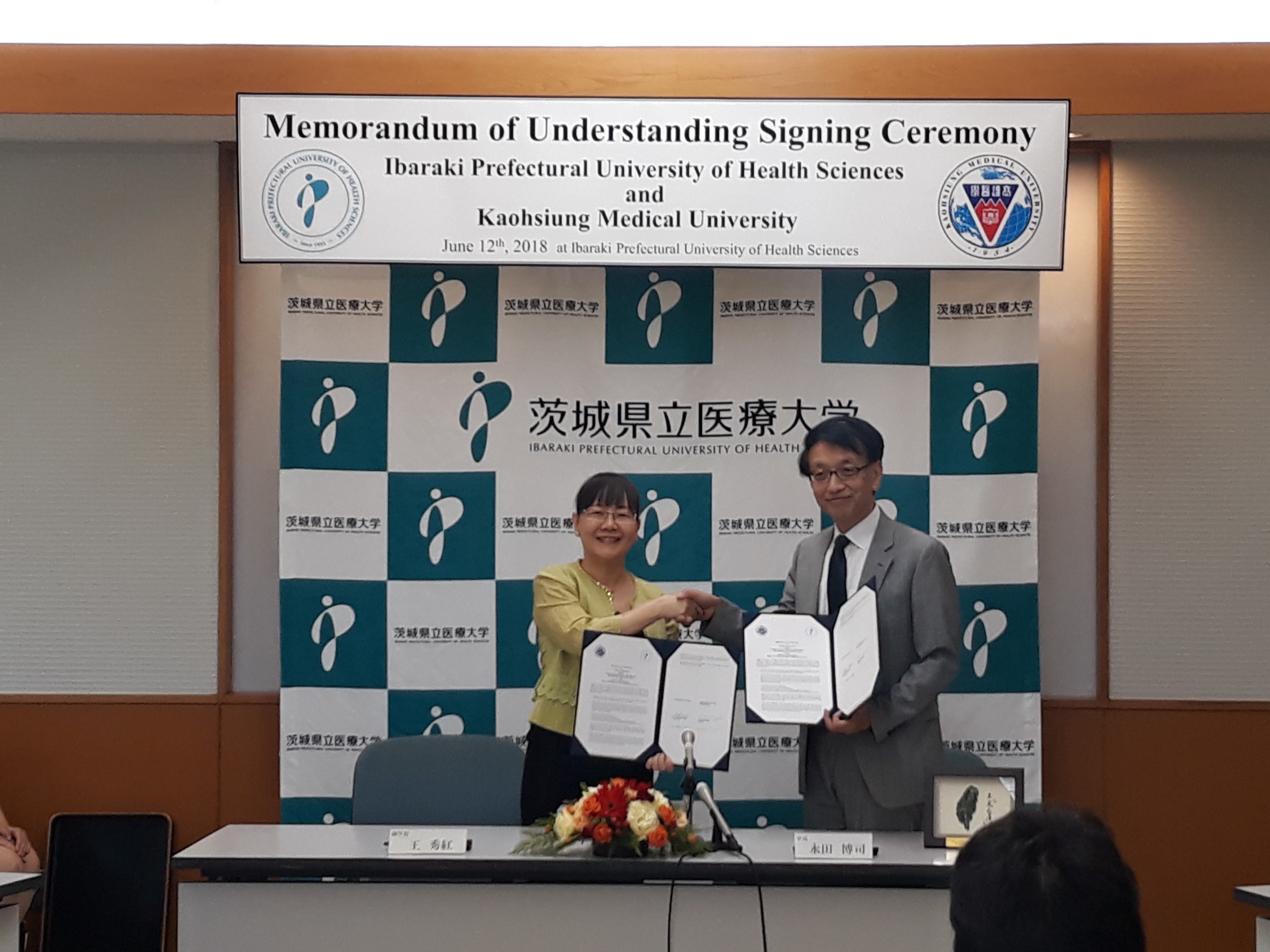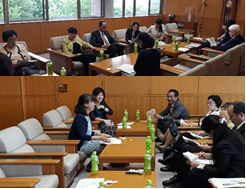 Top left: 12 June 2018- President Nagasaki, right, shakes hands with Vice President Wang, left after signing MoU
Top right: 12 June 2018-Discussion on future collaborative items after signing ceremony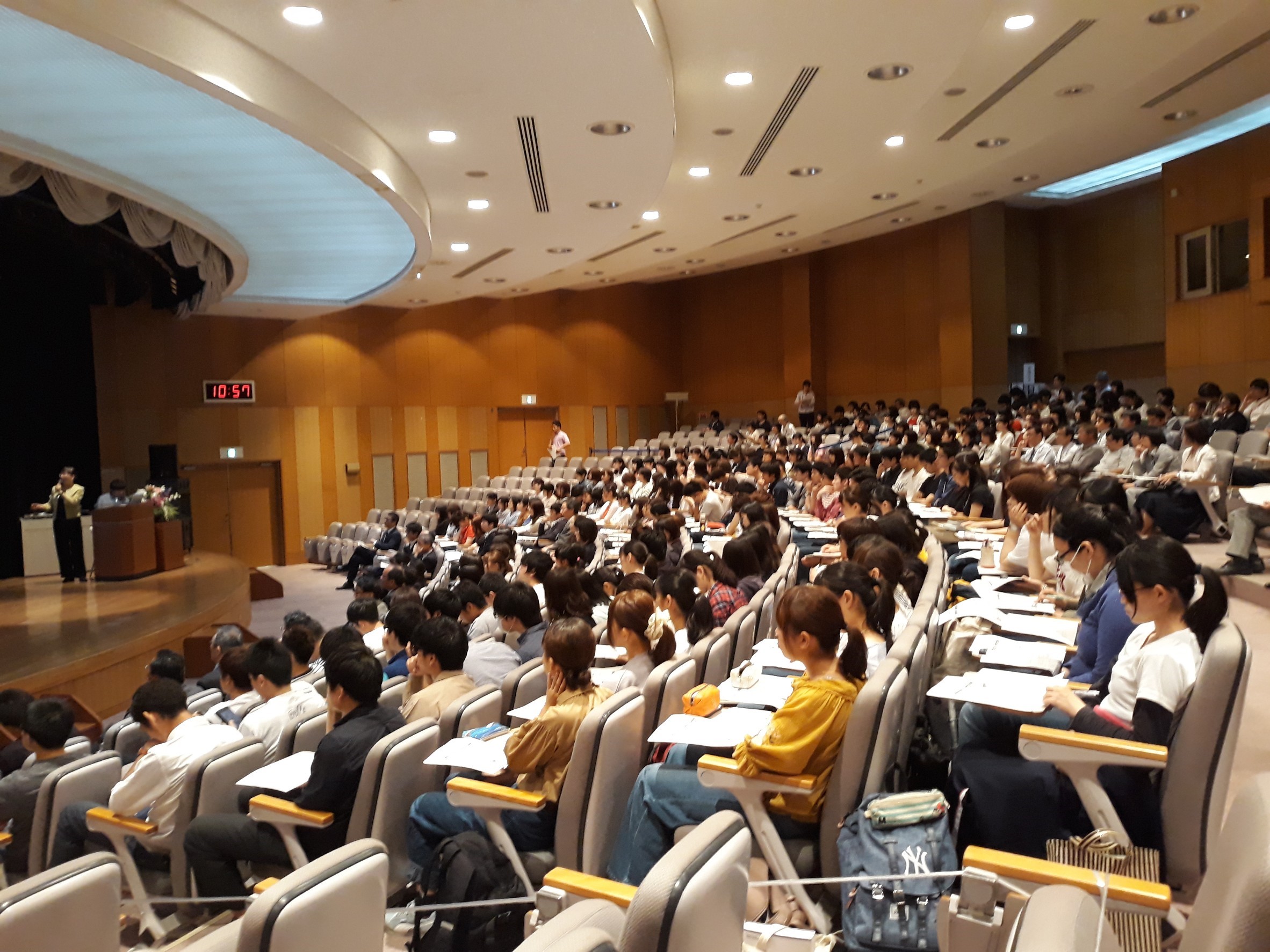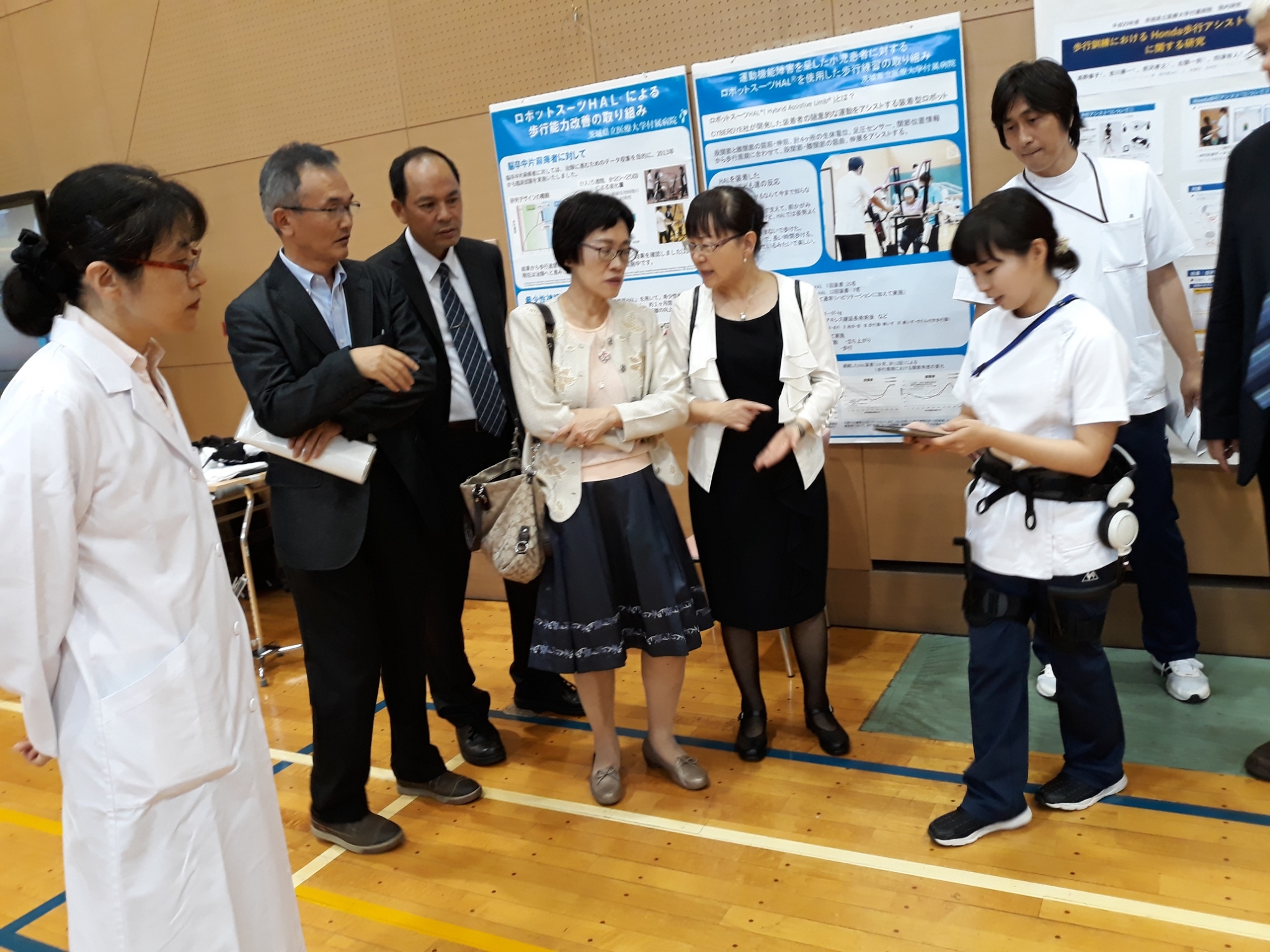 12 June 2018, Invited Speech on KMU's Strategies in Response to the Trend of Internationalization
11 June 2018, demonstration of using the facilitator for hip joints and lower back to train the musle of the femur
On June 11, KMU representatives visited the university hospital of IPUHS and the OSCE classroom for clinical training. KMU delegates marveled at many AI technology applied to healthcare with fare prices, which allowed greater populace to be covered by the healthcare. The application of technology on healthcare facilitates rehabilitation training courses to receive significant results and even records data on training for future analysis. The application of AI technology provided a cross-disciplined teamwork for the benefits of patients. The university hospital is highly specialized on physical and occupational therapy, which could compensate with KMU's healthcare systems where a greater variety of services were offered.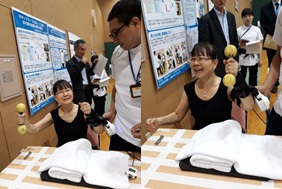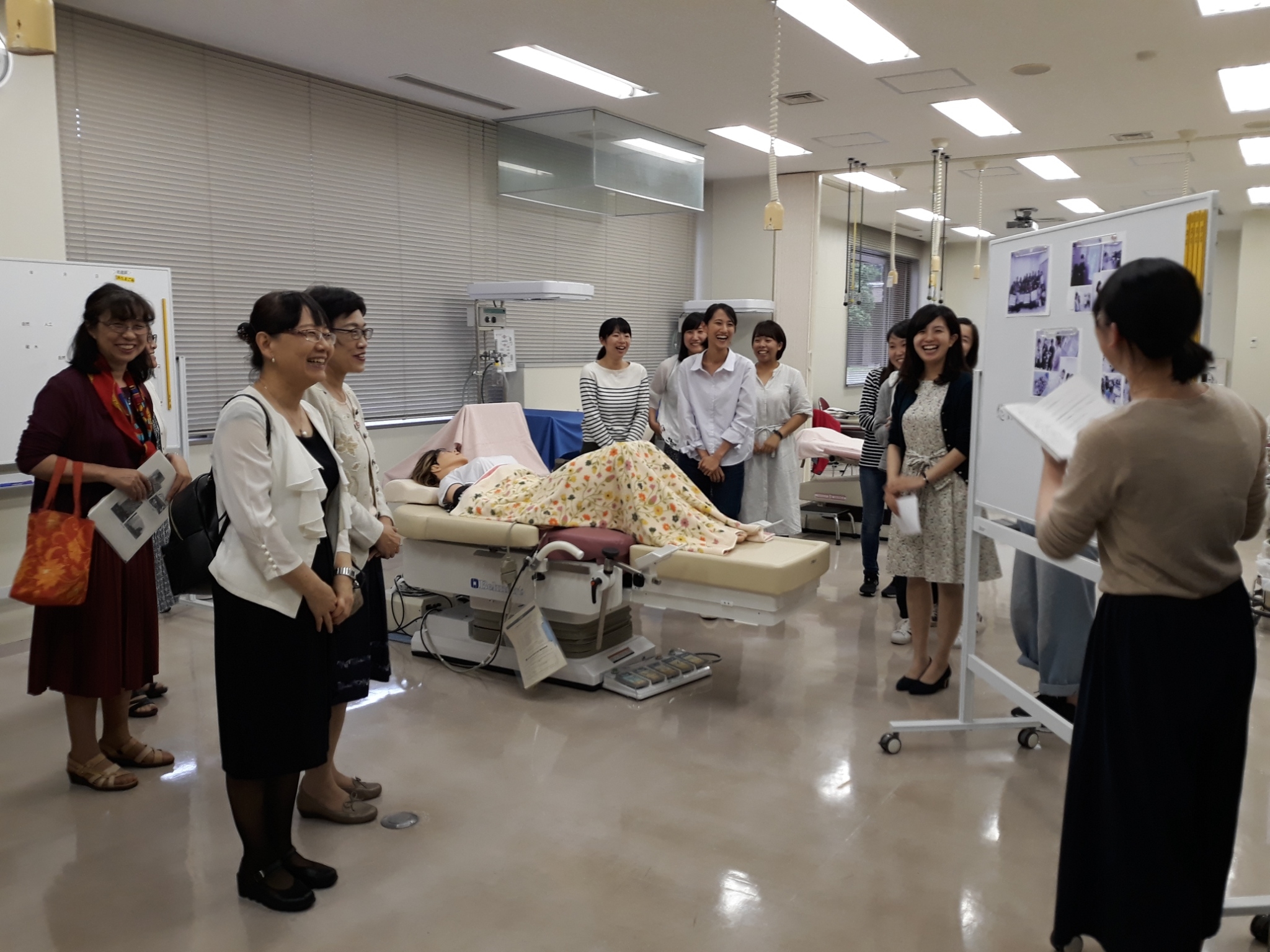 11 June 2018-campus tour: Picture on the left: holding a dumbbell with bare arm.
Picture on the right: 11 June 2018, campus tour: the OSCE classroom for clinical training
Vice President Prof. Wang, with the device on her elbow, hold the dumbbell without effort on her left hand.
On June 12, Vice President Wang gave a speech on how KMU developed on internationalization and make certain changes in responses to greater numbers of international students and also promoting students exchange with credits. Afterwards, on signing ceremony both President Hiroshi Nagata and Vice President Wang expressed the wish to explore other collaborations on the consolidated base of mutual students' exchange.
The signing ceremony was successively followed by press conference. Journalists from NHK, Yomiuri Online, the Ibaraki Shimbun Company, local radio were present and posted questions like current collaboration, cooperation prospects and common goals for the future. Vice President Wang suggested that IPUHS was rather advanced in terms of long-term care for the utility of AI tech would be a powerful facilities for the elder's day care to prevent frailty and sarcopenia. It would be our plan to schedule more master degree students to join an exchange program to IPUHS.
After lunch, IPUHS' representatives and KMU representatives have a meeting to discuss over collaborations on nursing such as long-term care to prepare for low birth rate and the aging society.
This September, KMU students from CoHS will be attending IPUHS for short-term exchange. On returning to Taiwan, both parties will be contacting one another via email to manage the follow-ups. It is an uplifted to both countries that Japanese press are also invited to witness the signing ceremony.