KMU's Affiliated Hospital, Chung-Ho Memorial Hospital and Office of Global Affairs at KMU Co-Hosted the Chinese Cultural Activity-International Students Learnt to Write Chinese Calligraphy Jan.25, 2016[By Journalist Fu-Chen Huang]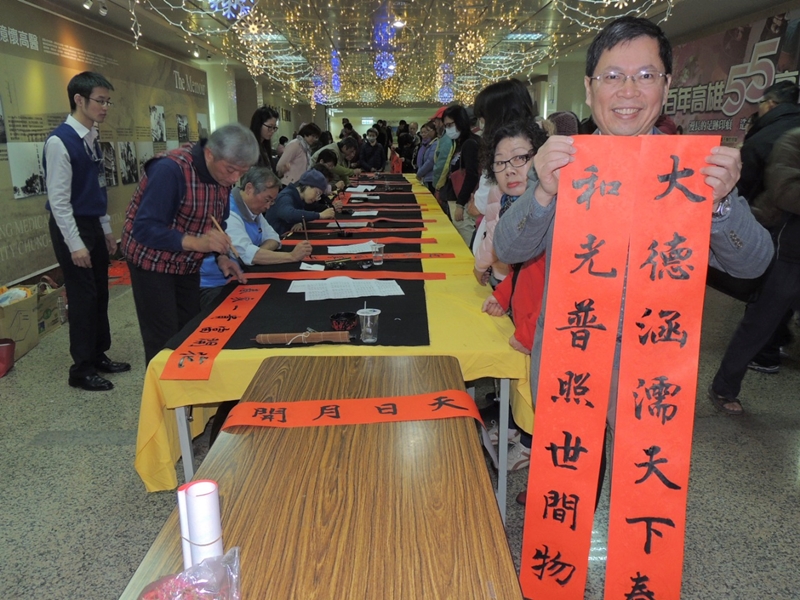 To celebrate the coming of 2016, Chung-Ho Memorial Hospital, KMU's affiliated hospital and Office of Global Affairs, KMU jointly hosted the Chinese Cultural Activity-Calligraphy Writing. The cultural events started at 10 o'clock. The symbol of the Chinese Zodiac is Monkey and this event was annually organized by affiliated hospital in order to give warmth to the patients as well as their relatives. This annual cultural event also became the KMU's tradition to have all the international students for celebration. The tradition could be traced back to 1994, doctor Lin at Plastic & Reconstructive Surgery's doctor Sing-Dao Lin (林幸道) hosted the event in an attempts to bring love to patients. Calligraphy artist, Mr. Tian-Liang Dai (戴天亮), was invited to write Chinese Characters in Calligraphy, with each character symbolizing warm blessings and wishes of good health and happiness.
KMU and National Sun Yat-Sen University (NSYSU) have long been good alliances for academic collaborations and communication. We also invited Vice-president for Office of International Affairs, Professor Chih-Wen Kuo and international students at NSYSU to join this cultural activity. Five heads from both universities took the lead to write down five Chinese characters to endow good wishes to everyone and KMU's Vice President, Hsiu-Hung Wang, Superintendent Prof. Dr. Yin-Wen Chung, Dean for OGA at KMU, Vice-president for OIA at NSYSU, Professor Chih-Wen Kuo, and Director Professor Pin Huang respectively wrote one character. The activities had another token for passing down our cultural heritage to next generation. All the invited international students also tries to imitate the calligraphy; meanwhile, our student ambassadors also presented the tradition and stories of the spring festival couplet, which made Chinese Culture wide-known as well as fun. Otgo from Mongolia suggested that writing calligraphy need focus. Tina from St. Vincent and the Grenadines wrote calligraphy with every stroke looking like Chinese bamboo. Other students said her drawing of the Chinese characters resembled her body figure. The cultural activities not only offered warms to the sick but also brought joy and fun to the foreigners.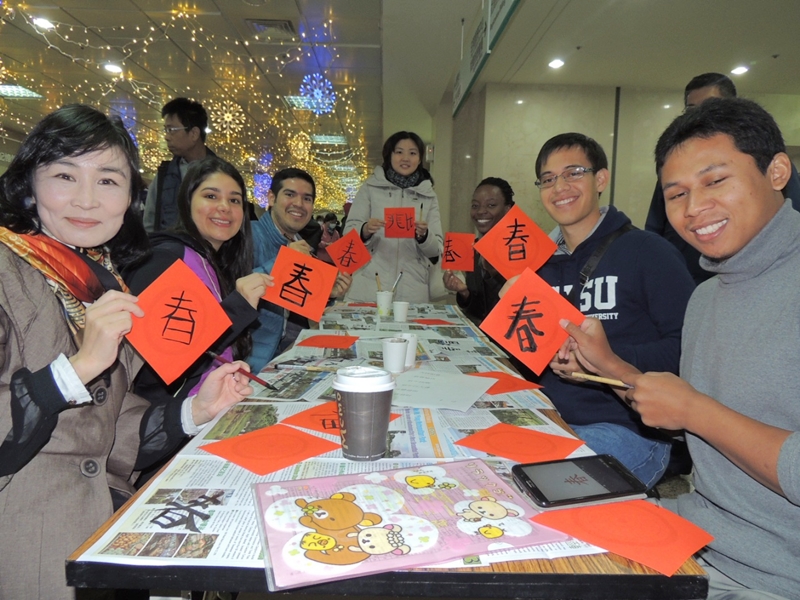 International students had fun with the calligraphy writing.