Lviv square displays 109 empty baby strollers to mark each child killed by Putin's forces - article with video
利沃夫廣場展示了109台空的嬰兒車以紀念被普廷軍隊殺害的每個孩子-原文含影片
Culture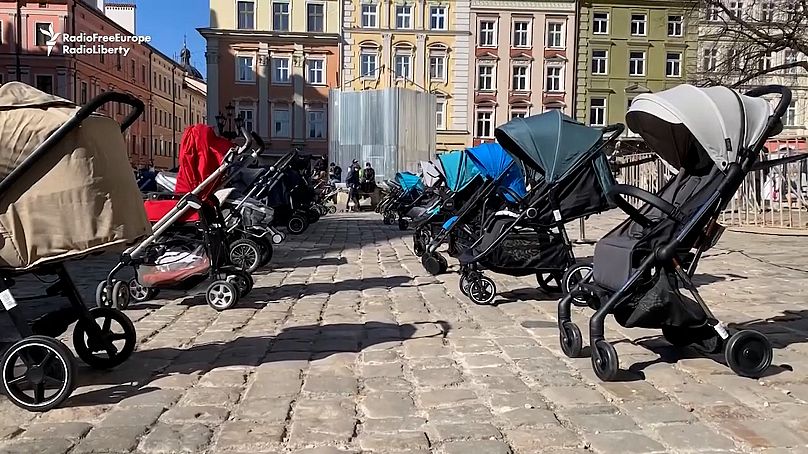 More than 100 empty strollers were lined up in the cobbled central square of the city of Lviv in Ukraine on 18 March. The visual art piece represents the 109 children Ukrainian officials say have died so far due to Russia's invasion of Ukraine. Svitlana Blinova, the organizer of the event, said the purpose of the demonstration is to help people visualize how many children have died, as war can make us numb to statistics. "During the war, especially on its 23rd day, we stop distinguishing among 30, 40, 50, or 100 [victims]. That's why today we brought here 109 strollers so that we could see what this number looks like - how many children could have been playing, enjoying their time with their parents on this square today," explains Blinova. --from Euronews, article with video.
3月18日,超過100台空的嬰兒車被排列在烏克蘭利沃夫鋪滿鵝卵石的中央廣場。烏克蘭官方表示:這項視覺藝術呈現迄今因俄羅斯入侵烏克蘭而喪生的109位孩童。活動發起人Svitlana Blinova說,這次展示的目的是幫助人們看清多少孩童已喪生,因為戰爭可能使我們對統計數據麻木。Blinova解釋道:「在戰爭期間,尤其在戰事第23天,我們對傷亡人數到底是30、40、50還是100人已經無感了。這就是為何今日我們將109台嬰兒車擺放於此,以讓人們實際感受這個數量-曾有多少小孩在此嬉戲、和他們的父母在這個廣場上享受天倫之樂。」 --摘錄翻譯自Euronews,原文含影片。
The incredible afterlife of an abandoned luxury hotel - article with video
廢棄豪華飯店不可置信的後半生-原文含影片
Culture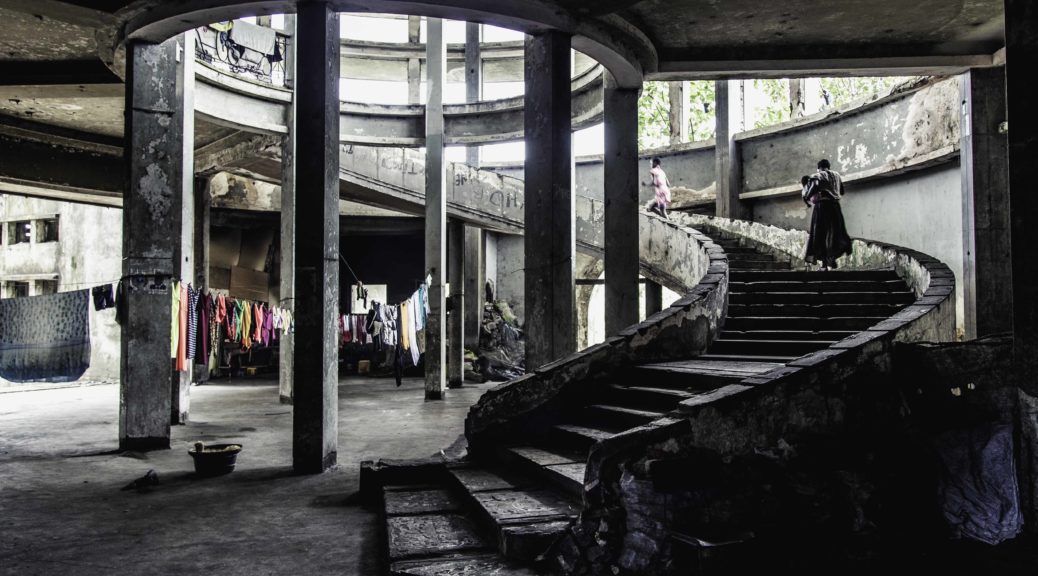 The Grand Hotel in Beira, Mozambique has had an extraordinary life: opened in 1954, it was a luxury destination with an Olympic-sized swimming pool and cinema. Closed in 1963 due to lack of guests and taken over as a military base during the country's war of independence, it now houses a few thousand squatters – some of whom are the third generation living there. Mozambique photographer Amilton Neves Cuna documented the space, and the people living there, in his fascinating project Grand Hotel. In this video, he talks about what drew him to the building, and what its history can tell us about the impact of colonialism. --from BBC New, article with video.
莫三比克的貝拉飯店擁有非凡的一生。它在1954年開幕,曾是一個擁有奧運規模的泳池和電影院的豪華景點。1963年由於缺少旅客而關閉,接著因國家的獨立戰爭,而被接收成為軍事基地。如今那裡容納了幾千名偷住者,有些甚至已經是第三代居住者。莫三比克攝影師Amilton Neves Cuna在他精采的《Grand Hotel》攝影輯裡記錄了這個空間、還有這裡的居民。在這部影片中,他講述自己受什麼吸引而來,也以這裡的歷史告訴我們殖民主義的影響。 --摘錄翻譯自BBC News,原文含影片。
As Creator of 'CRISPR Babies' nears Released from Prison, Where does Embryo Editing Stand?
隨著「CRISPR嬰兒」的創造者將從監獄中獲釋,胚胎編輯的立場在哪裡?
Sciences
Biophysicist He Jiankui, having served a 3-year sentence for creating the world's first genetically engineered babies, may be released from a Chinese prison this week, Science has learned. He's largely secret use of the genome editor CRISPR to alter the DNA of human embryos and implant them into two women led to three births, sparking ethical outrage and fears for the babies' health. It did not, however, bring an end to basic research on human embryo editing. The 3 years since He went to prison have seen glimmers of progress in heritable human genome editing, but many scientists say the increased awareness of CRISPR's shortcomings has underscored the recklessness of transplanting edited embryos with the technology available today. --from Science News
據《科學》了解,因創造世界上第一個基因工程嬰兒而被判刑3年生物物理學家賀建奎,本周可能會從中國監獄獲釋。他秘密地大量使用基因組編輯器CRISPR來改變人類胚胎的DNA並將其植入兩名女性體內,產出3個生命,引發了道德上的憤怒和對嬰兒健康的擔憂。然而,這並未終結人類胚胎編輯的基礎研究。賀建奎入獄的3年裡,人類遺傳基因組編輯取得了一些進展;但許多科學家表示,人們對CRISPR缺點的認知不斷提高,凸顯了「用現有技術去移植編輯過的胚胎」的魯莽。 --摘錄翻譯自Science News
Beauty and Wonder of Science Boosts Researchers' Well-being
科學的美麗與奇蹟提升了研究者的幸福感
Sciences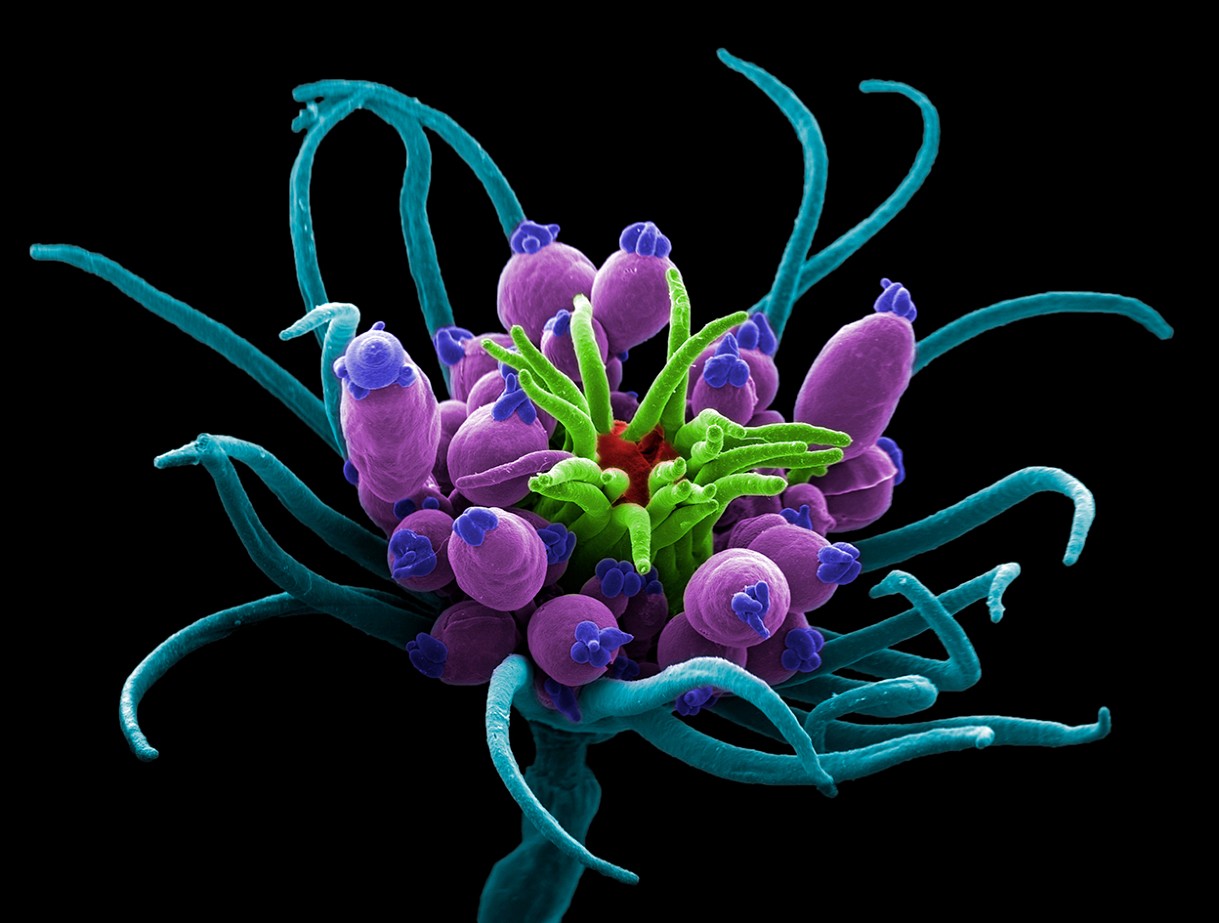 Scientists' ability to experience wonder, awe and beauty in their work is associated with higher levels of job satisfaction and better mental health, finds an international survey of researchers. Brandon Vaidyanathan, a sociologist at the Catholic University of America in Washington DC, and his colleagues collected responses from more than 3,000 scientists in India, Italy, the United Kingdom and the United States. They asked participants about their job satisfaction and workplace culture, their experience of the COVID-19 pandemic and the role of aesthetics in science. Although finding beauty in their work can help scientists to overcome difficulty, many aspects of the job can work against that experience. Dealing with administrative responsibilities, writing grant applications and the pressure to produce papers all get in the way of appreciating the beauty of science. --from Nature
一項針對研究人員的國際調查發現,科學家在工作中體驗奇蹟、敬畏和美學伴隨著高度的工作滿意度和更好的心理健康。美國華盛頓特區天主教大學的社會學家Vaidyanathan和他的同事收集了來自印度、義大利、英國和美國的3,000多名科學家的回覆。他們詢問了參與者的工作滿意度和工作場所文化、在疫情中的經歷以及美學在科學中的作用。雖然在工作中發現美麗事物有助科學家克服困難,但工作上許多方面都可能與這體驗相左。處理行政責任、申請經費和撰寫論文的壓力都阻礙了人們欣賞科學之美。 --摘錄翻譯自Nature
People Who Are Overweight in Middle Age Face More Health Issues When They're Older
中年超重的人隨著年齡增長面臨更多的健康問題
Health
Researchers say people with obesity in middle age face more serious health effects and higher medical costs when they're older. They added that people who are overweight or obese are more likely to need treatment for coronary heart disease, heart attacks, peripheral vascular disease, cerebrovascular disease (stroke), and heart failure than people who had normal BMI scores in middle age. Cumulative median healthcare costs among participants with overweight were $12,390 more than those with normal BMIs. Researchers also estimated that costs were $23,396 higher among those with obesity. --from Healthline Media
研究人員指出:中年肥胖的人在年長時,得面臨更嚴重的健康影響和更高的醫療費用。他們補充說,超重或肥胖的人相較於BMI值正常的中年人,似乎更需要冠狀動脈心臟病、突發性心臟病、末梢血管疾病、腦血管疾病(中風)和心臟衰竭等治療。超重參與者的累積醫療保健成本比BMI正常參與者的高出12,390美元。研究人員同時計算出肥胖者的醫療成本更高出23,396 美元。 --摘錄翻譯自Healthline Media
Even a Little Light in Your Bedroom Could Harm Health
臥室裡的一盞小燈也可能損害健康
Health
The study of 20 healthy adults found that just one night of sleeping with the lights on spurred changes in people's functioning: Their heart rates stayed higher during sleep compared to a night with lights off. And, by the next morning, they were churning out more insulin — a hormone that regulates blood sugar. The effects were not dramatic. But it's plausible that small effects, night after night, could ultimately affect a person's health, said senior researcher Dr. Phyllis Zee. So if you need a nightlight for safety, that's fine. Just make it less bright, and place it closer to the floor. --from U.S. News & World Report
一項對 20 名健康成年人的研究發現,開著燈睡覺僅一晚,仍會刺激人體功能產生變化:他們在睡眠期間的心跳速率比關燈的夜晚來得高。而且到了第二天早上,他們分泌了更多的胰島素—一種調節血糖的激素。這個效果並不顯著。但高級研究員Zee博士表示,看似微小的影響,夜復一夜,最終可能會影響個人的健康。如果你需要一盞夜燈以獲得安全感,沒問題。只是讓它不那麼亮,並把它放在更接近地板的位置。 --摘錄翻譯自U.S. News & World Report