Asia-Pacific Association for International Education 2017 Conference & Exhibition (APAIE 2017)
National Sun Yat-sen University hosted the 12th. APAIE 2017 on March 21 to 24. The 4 days Conferences provided presidents of universities and senior executives for international affairs with chances to build partnership and communications on directing future strategies for school management.

March 21, 2017 Opening Ceremony March 23, 2017 Closing Ceremony
APAIE 2017 President's Roundtable
All the presidents were invited to join the President's Roundtable to have a talk on the linkage between higher education and industry. The talk targeted at the issues of consolidating collaboration between industry and higher education and of how to bridge graduates to career life.
KMU's representatives, Professor Chung-Sheng Lai and Professor Hung-Yi Chuang, Dean for Office of Global Affairs, as moderator respectively on two parallel sessions, "Globalization Trends and Corresponding Strategies" and "Student Mobility and Support Services."
Taiwan-France higher Education Forum 2107, held by Foundation for International Cooperation in Higher Education of Taiwan (FICHET) during APAIE 2017, had gathered many senior executives of universities to explore various types of student international mobility. Previously, the cooperation of France and Taiwan fell on short-term student exchange such as language learning courses and internship. The forum mainly targeted at how to deepen bilateral academic collaborations in disciplines such as medicine, biology and engineering.
Hungarian representatives also hosted "Explore Hungary" admission information meeting at KMU in order to promote Hungary's higher education either for recruiting students and welcoming international exchanged students. KMU staff had talks with exhibitors from Germany, Hungary, Netherland, etc. on collaborative issues like student exchange program and faculty research collaboration.
First Aid Station –KMU
KMU set up First Aid Station at APAIE 2017 to offer medical service. KMU's crew from University Hospital, Kaohsiung Municipal Ta-Tung Hospital and Kaohsiung Municipal Siaogang Hospital attended APAIE 2017 to stay at the Fist Aid Station for offering services to exhibitors in need.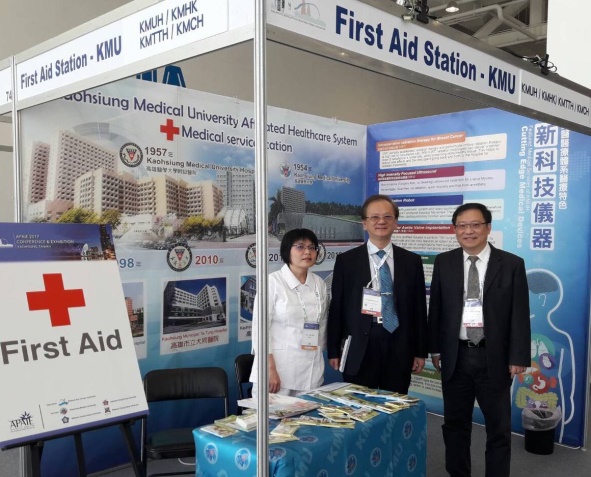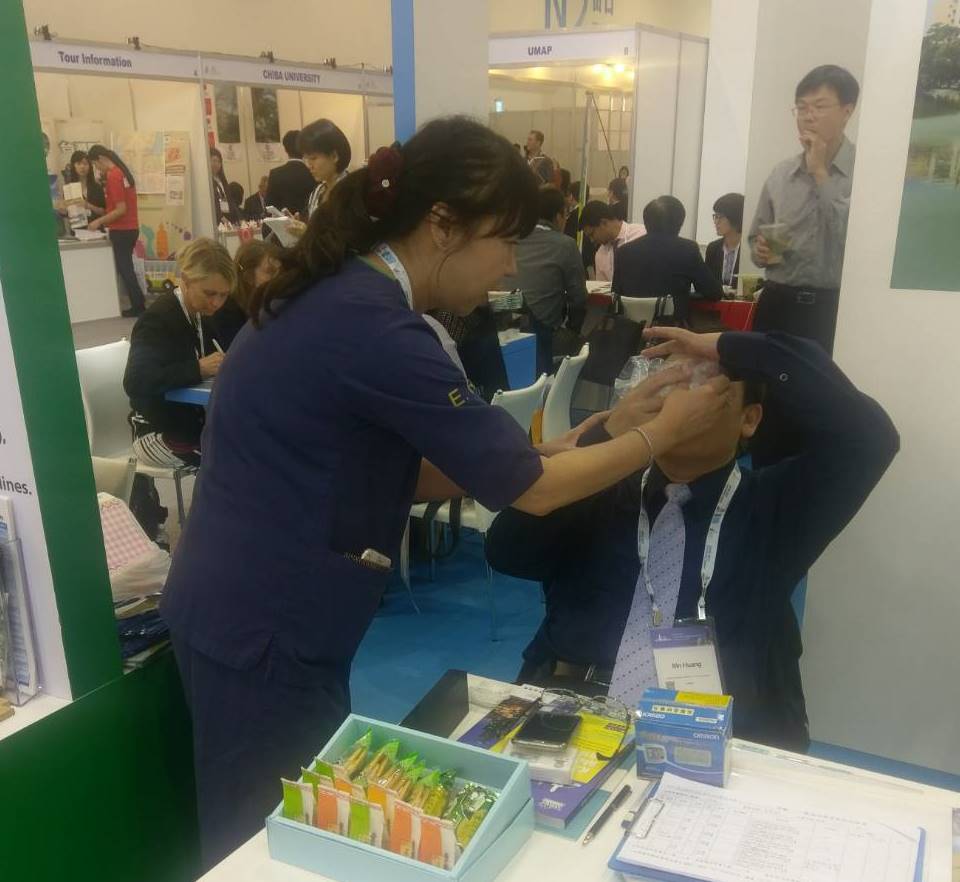 Campus Tour at KMU
Campus tour succeeded by APAIE 2017's closing ceremony was held by all the host and cohosts on March 24th. Before the tour, President Ching-Kuan Liu welcomed them with opening remarks and gave a brief introduction of our university. The delegations had tours to Department of Chinese Medicine, International Medical Center, our Historical Archives Museum and also the Ta-Tung Full-love Daycare Center. All the participants marveled at planning tele-healthcare in the near future, the facilities and course designs for the elders in the Daycare Center.