外交部防疫專區 Ministry of Foreign Affairs
衛生福利部疾管署防疫專區 Taiwan Centers for Disease Control
CECC:To prevent community infections, event organizers are urged to strictly conduct a risk assessment and prepare complete disease prevention plans before gatherings. ( Janurary 19/ For press release and details at https://reurl.cc/R66eZe)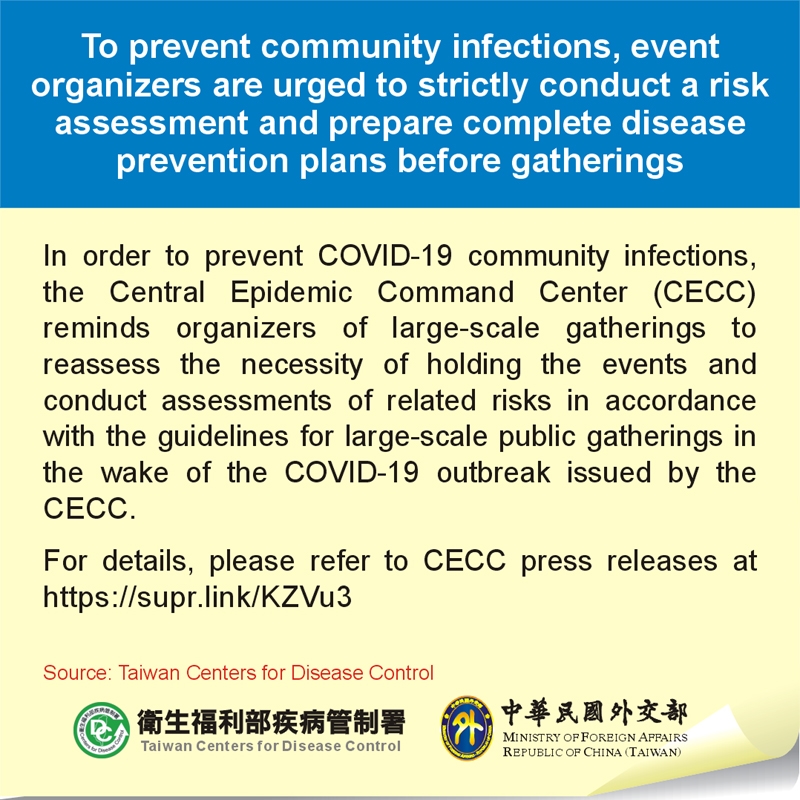 CECC stated considerations for year-end large gatherings on December 22. For press release and details at http://supr.link/KZVu3
(Source: MOFA TAIWAN)
---
2020.11.18 Fall-winter COVID-19 prevention program to be launched on December 1; CECC urges the public and healthcare facilities to follow related measures.
1. Border quarantine: all travelers coming to Taiwan and transit passengers are required to provide a certificate of a negative COVID-19 RT-PCR test result issued within three days prior to boarding the flight to Taiwan.
2. Community prevention: people must wear masks in eight types of public venues, and violators who refuse to comply after being advised could be penalized according to laws.
3. Medical response: Medical response: strengthen case reporting and specimen collection procedures, and formulate incentive indicators.
(Ditails & Source: Taiwan CDC - 20201118 Fall-winter COVID-19 prevention program)
---
2020.11.04 The Central Epidemic Command Center (CECC) announced that starting from November 9, it would enhance entry quarantine measures for travelers coming to Taiwan who have experienced symptoms in the past 14 days.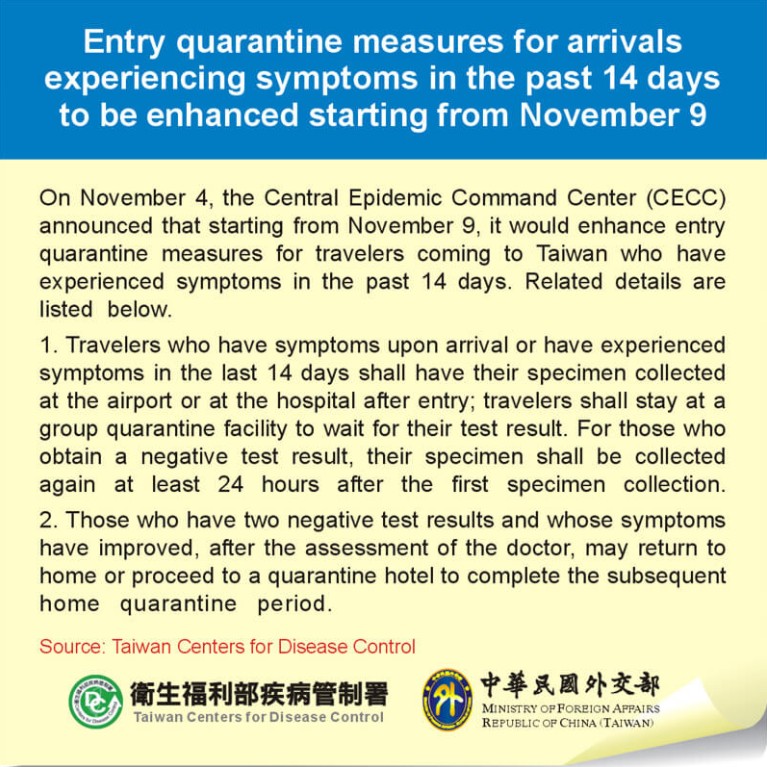 ---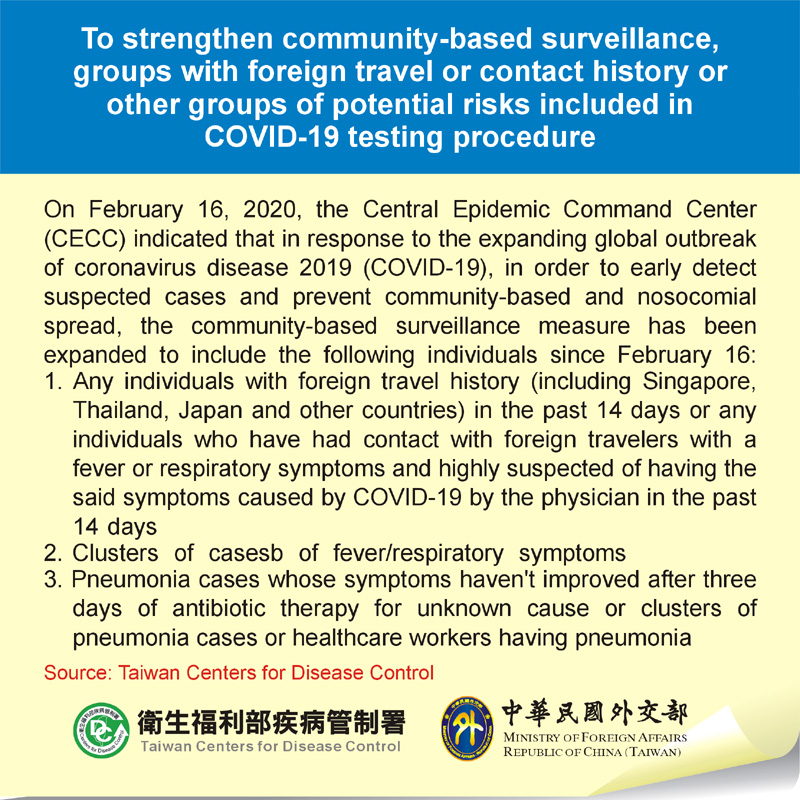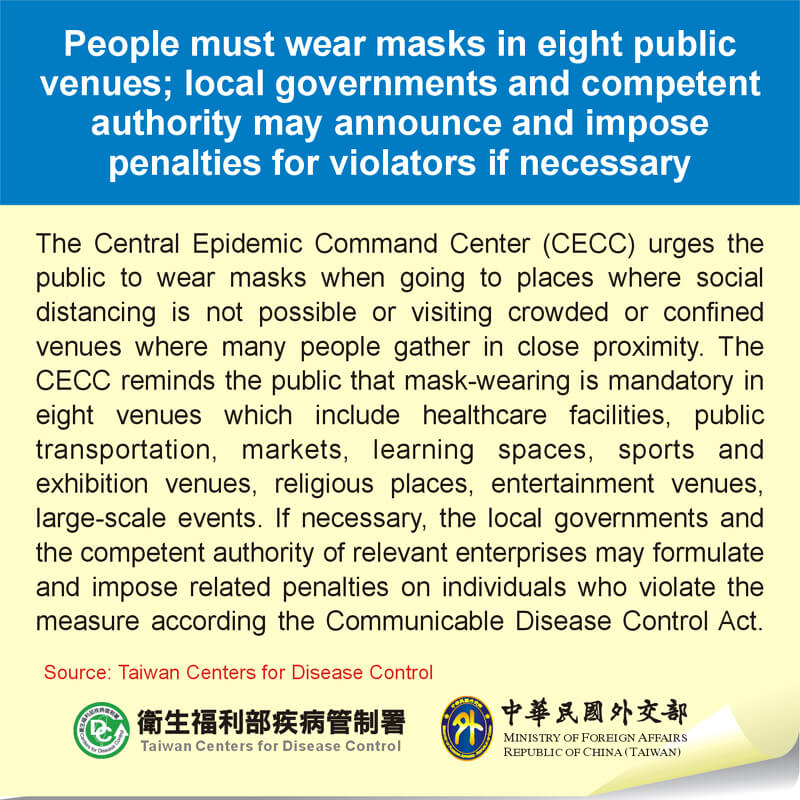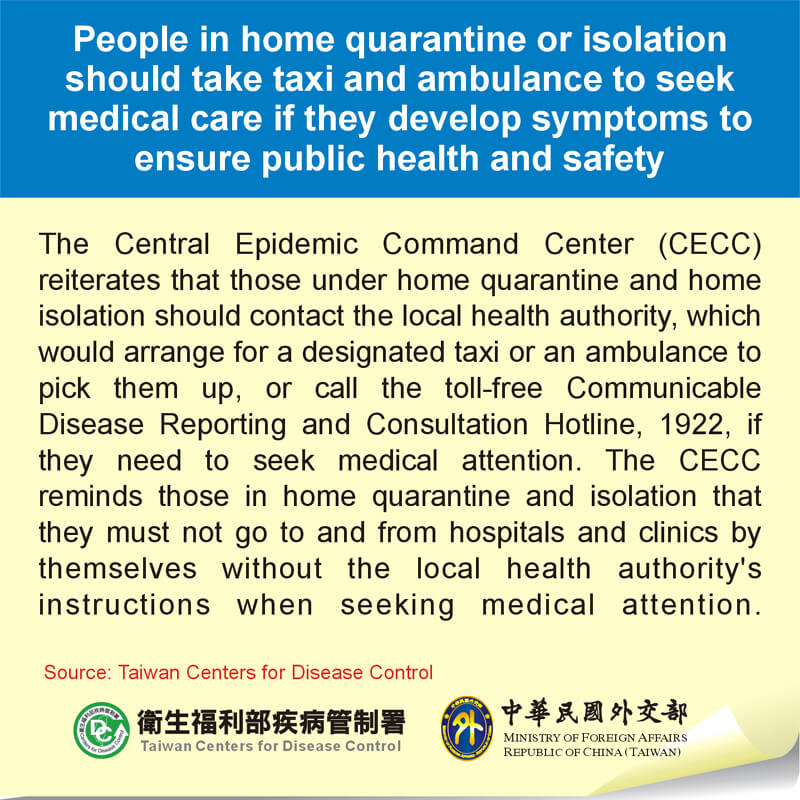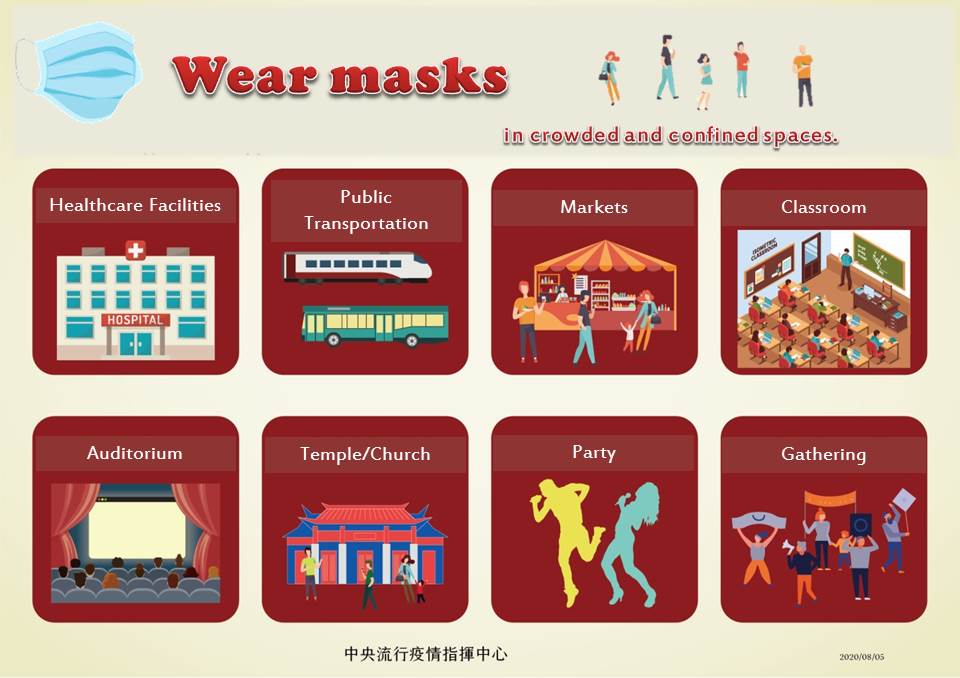 2020-08-12 CECC raises its risk level for Vietnam to medium risk as coronavirus cases in Vietnam continue to increase
2020-07-22 Starting from August 1, Taiwan to conditionally allow foreign nationals to receive medical treatment in Taiwan
2020-07-22 Hong Kong, Australia are removed from CECC's list of medium-risk countries as their coronavirus cases continue to increase
2020-06-25 transit passengers are allowed at Taiwan Taoyuan International Airport with thorough route and monitoring measures in place to prevent coronavirus spread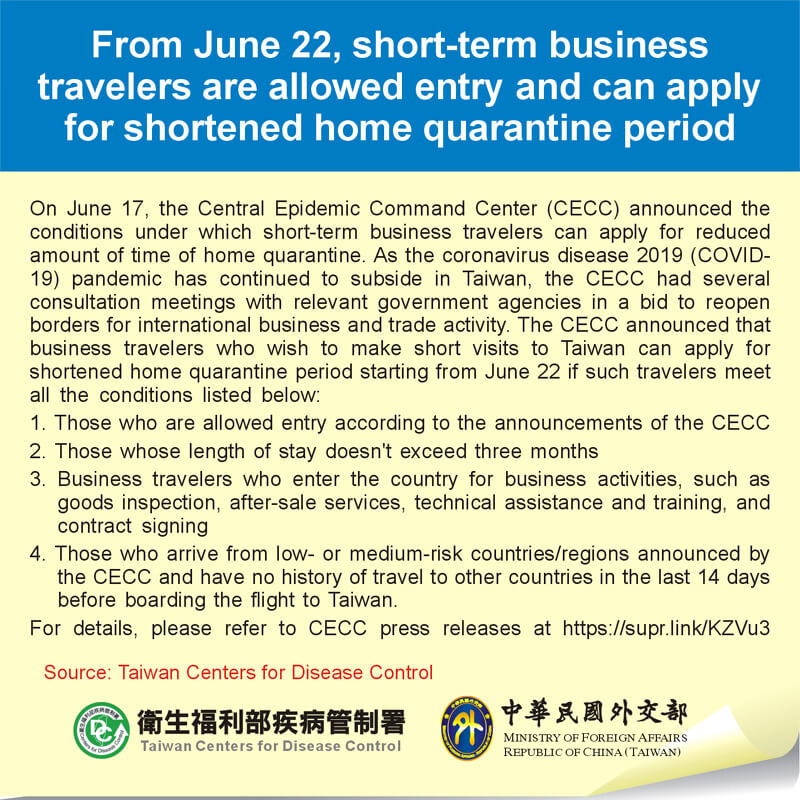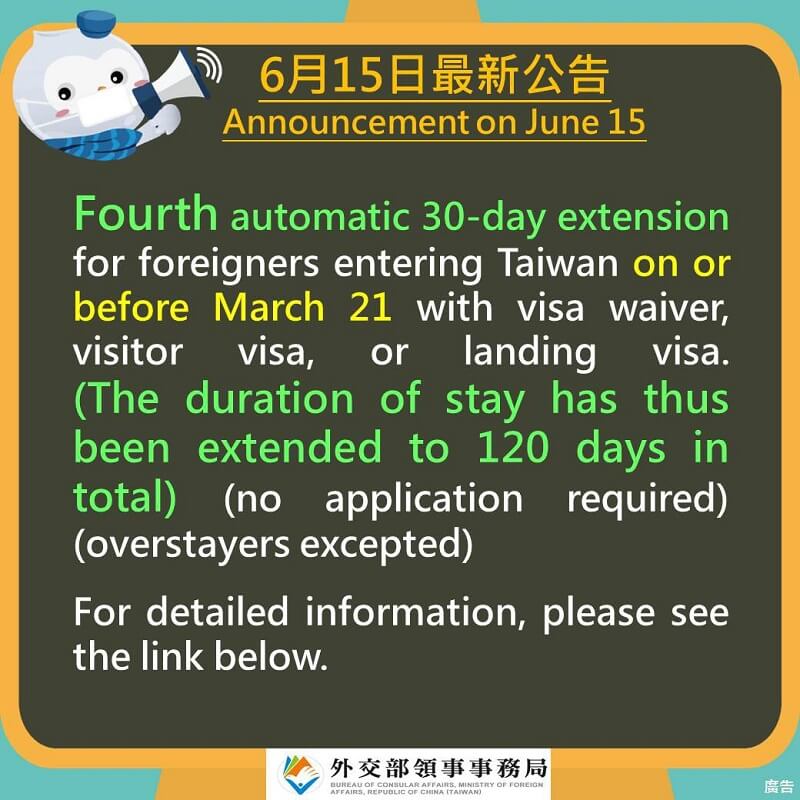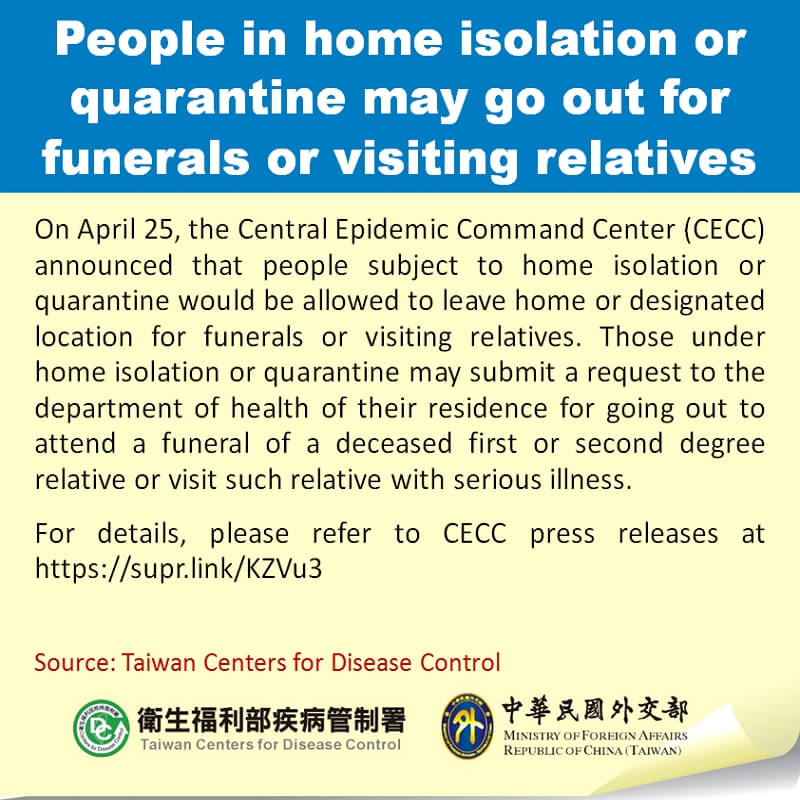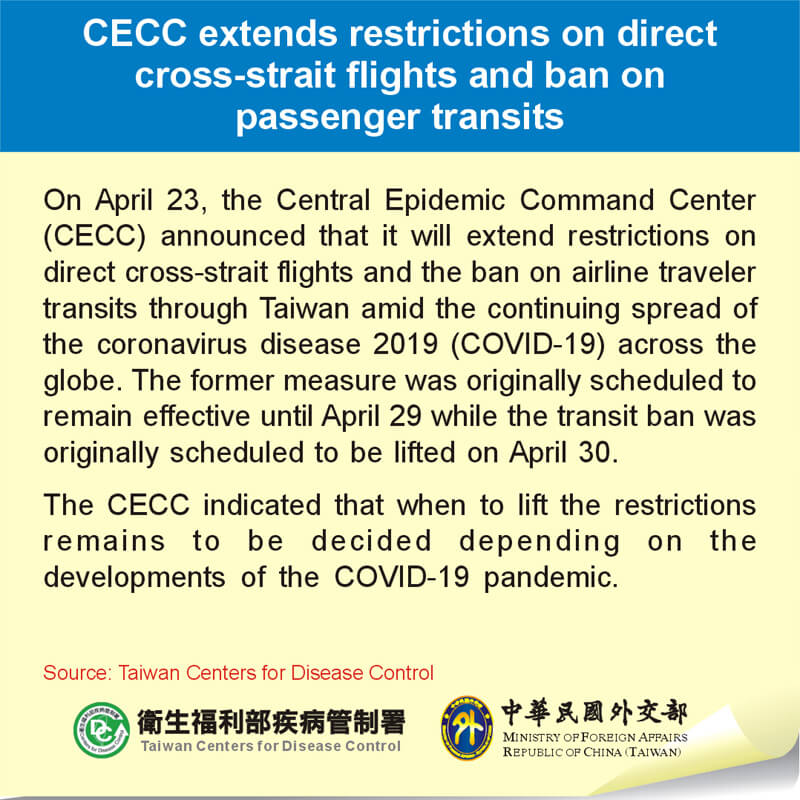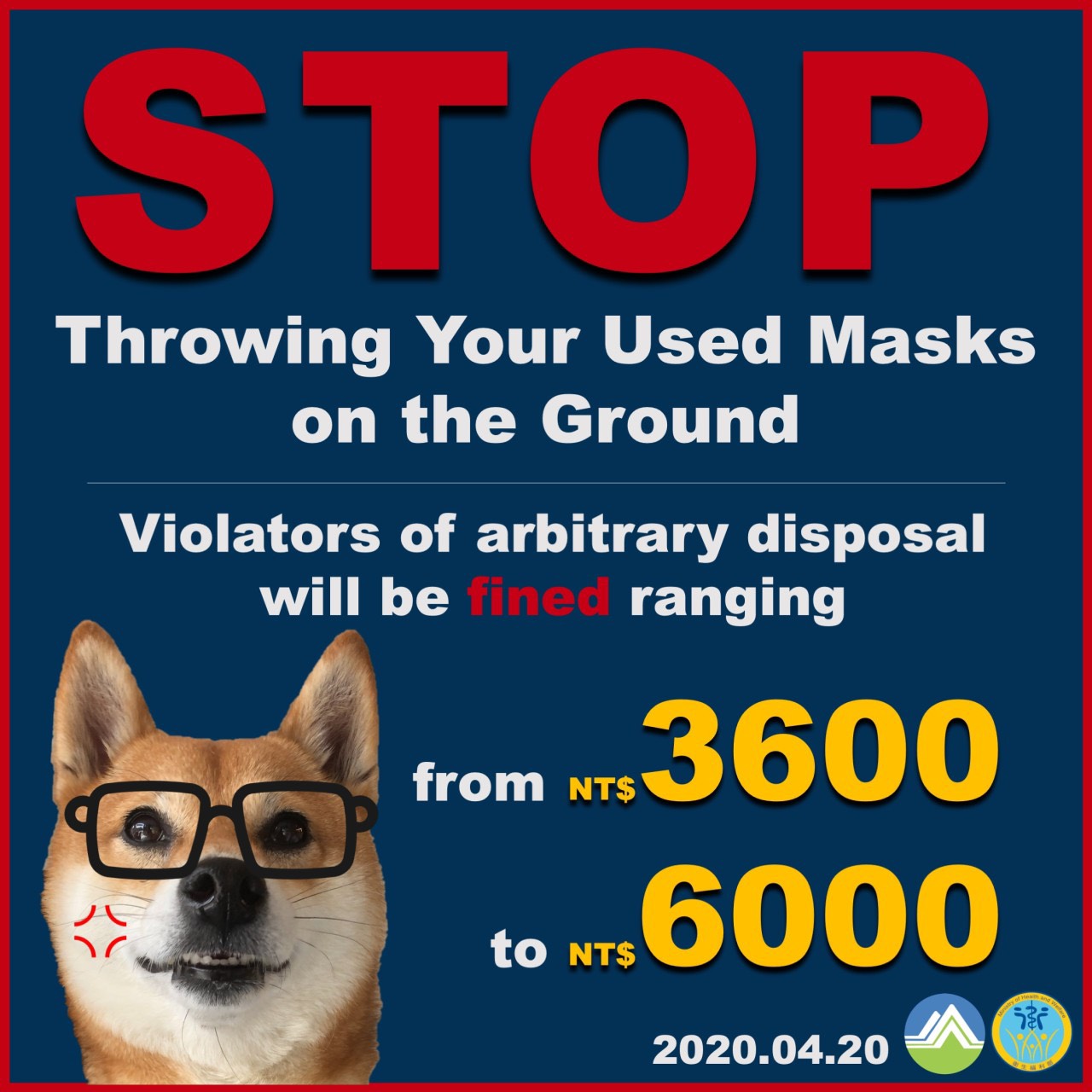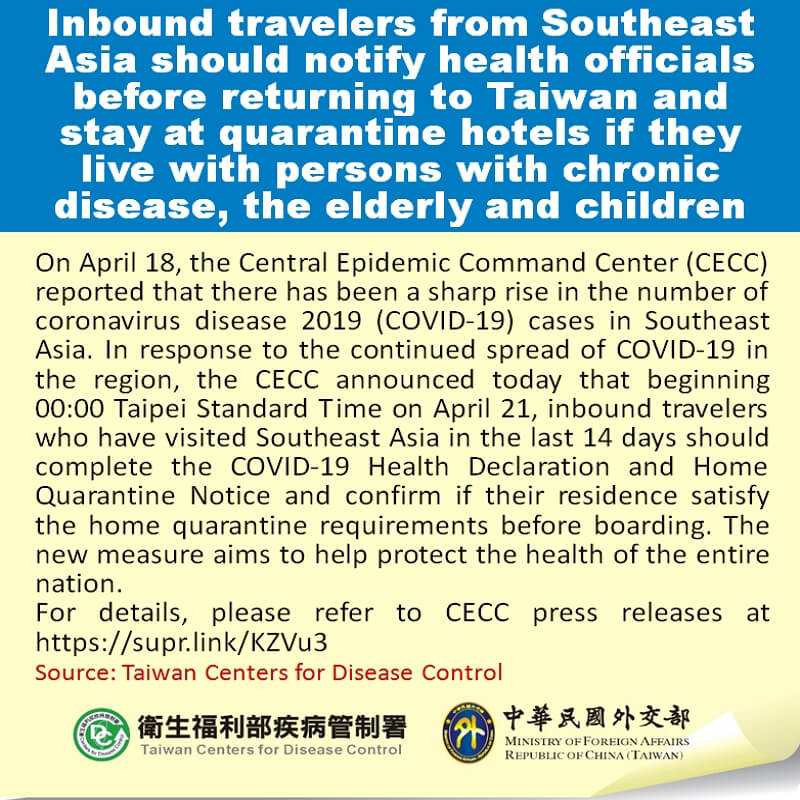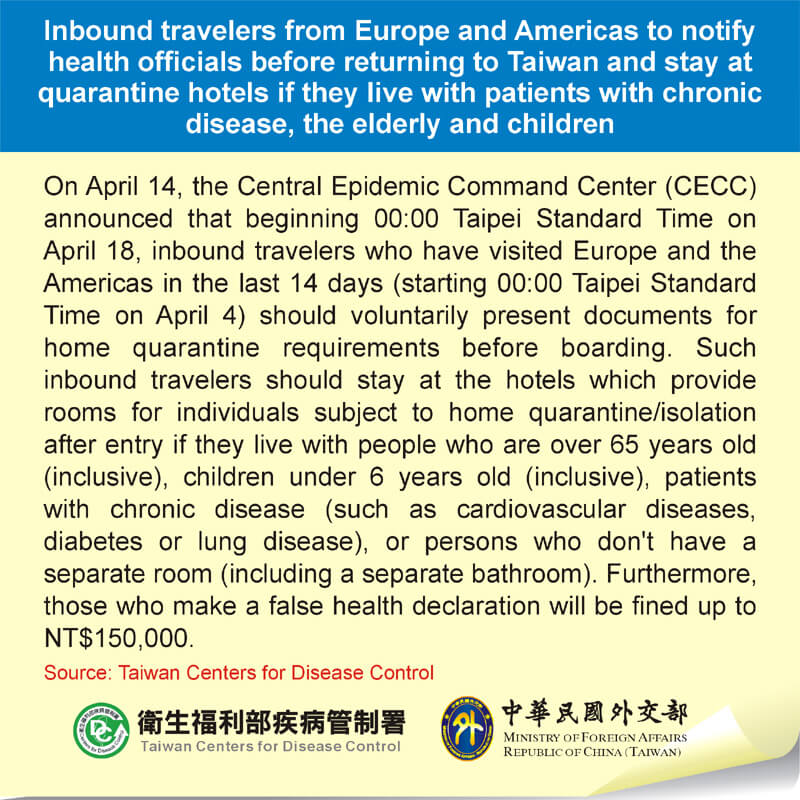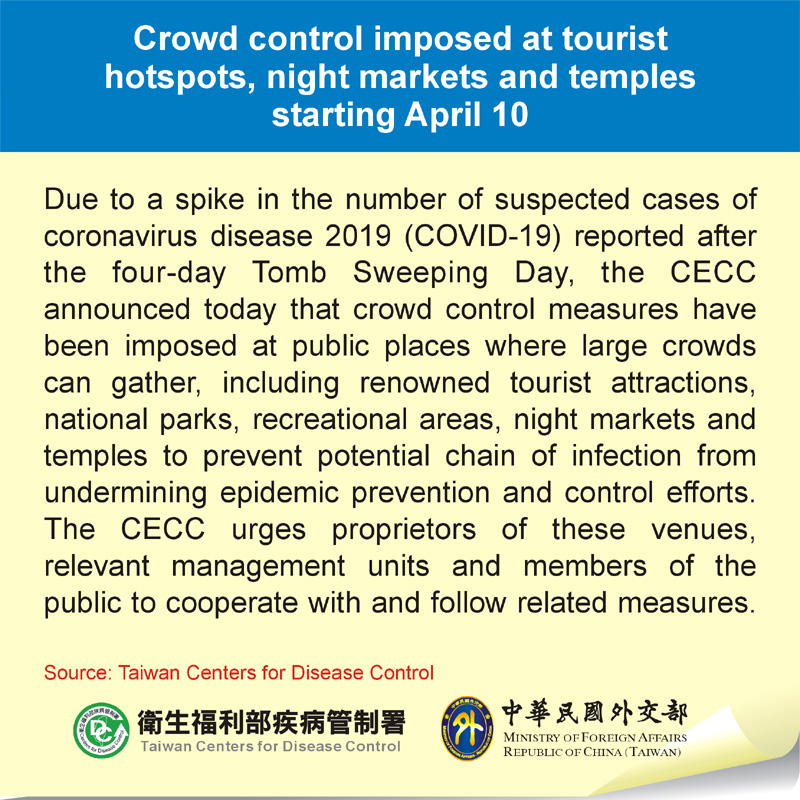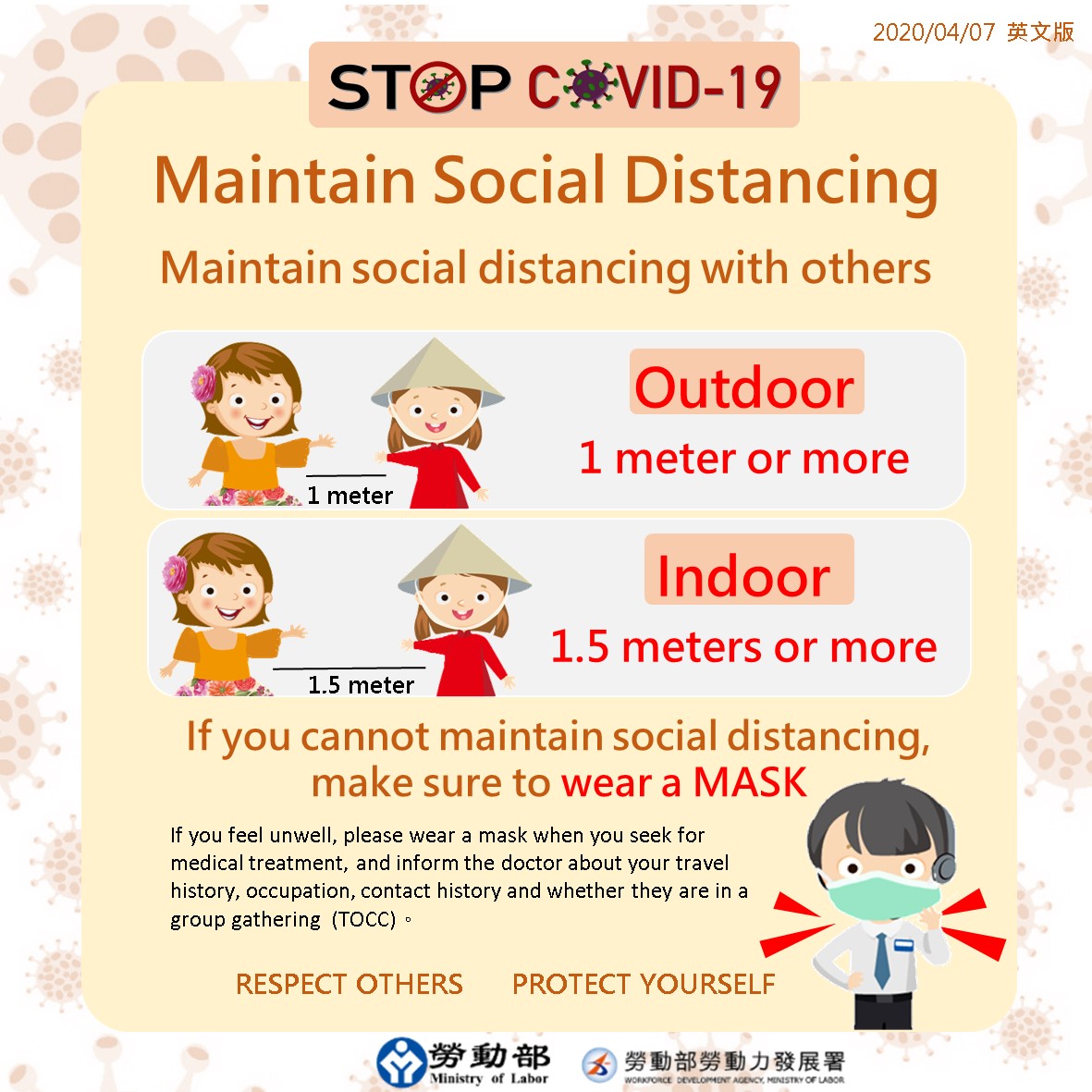 . @morisatwine is a quick study.

Combating #Coronavirus needs #AllHandsOnDeck.🙌

Lots of bilateral conversations, no top-down authoritarianism.🆓

Watch my virtual lecture on mask revitalising with @agoerlach via @vf_institute.

▶️https://t.co/8mrpydHaB3

Yes! #TaiwanCanHelp🇹🇼 https://t.co/LcD8tvsaFe pic.twitter.com/5TjLh2KKsX

— Audrey Tang 唐鳳 (@audreyt) March 31, 2020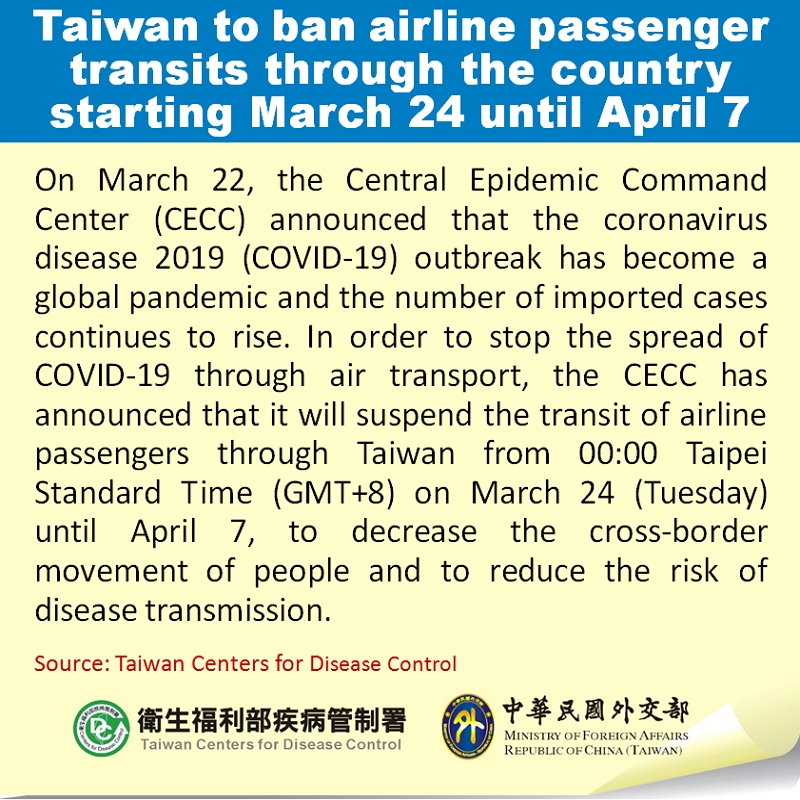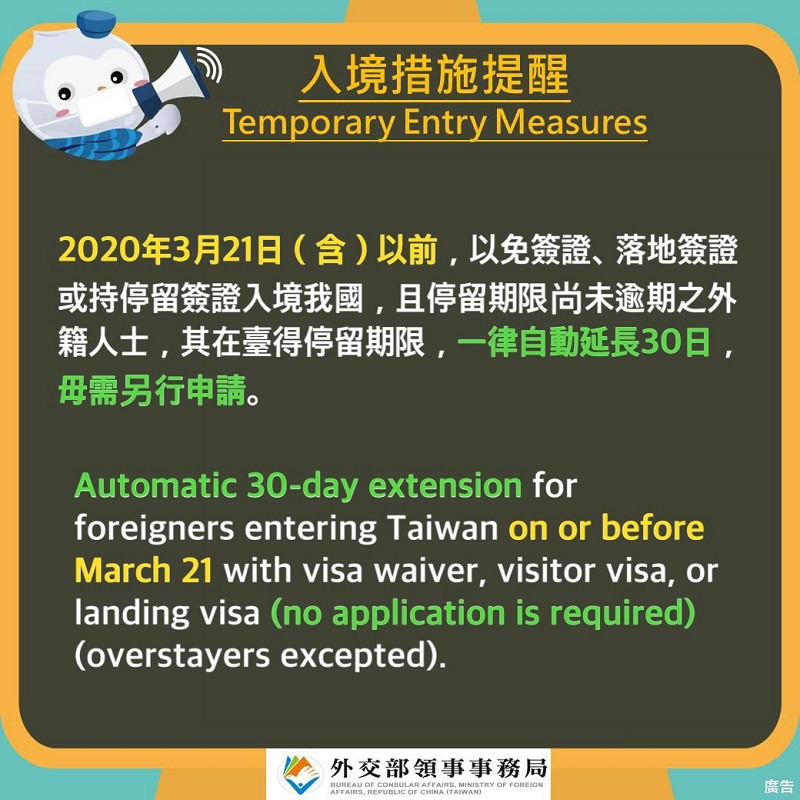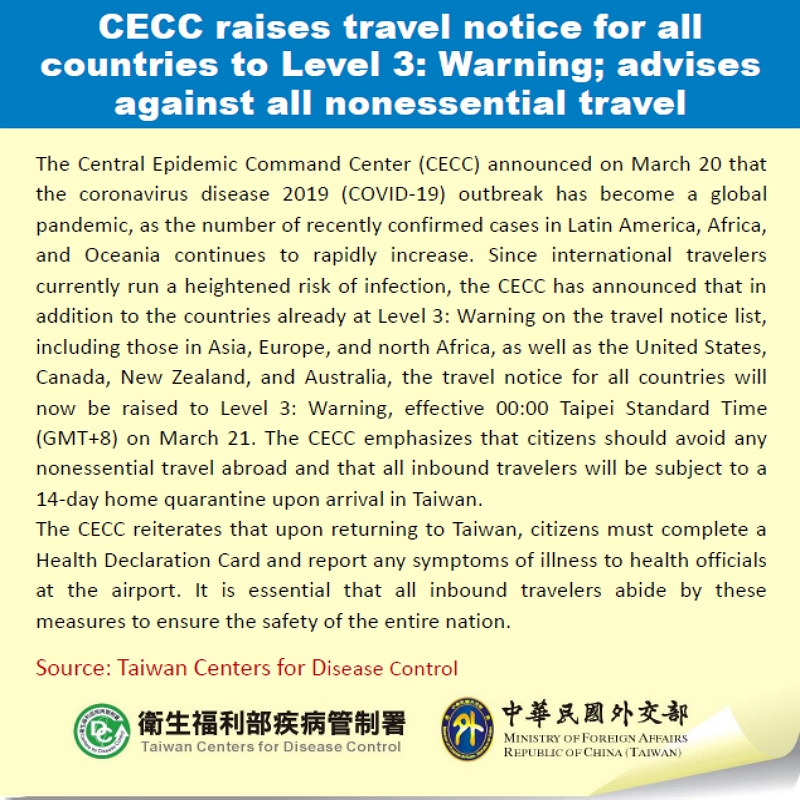 1.Maintain Good Respiratory Tact Hygiene and Fulfill Coughing Etiquette:
2.Health Care and Management:
3.On Campus COVID-19 Epidemic Prevention- What We Can Do:
4.On Campus COVID-19 Epidemic Prevention- What Teachers Can Do:
5.Maintain Good Hygiene and Good Habit:
For more information:https://reurl.cc/V6aO7N
If you feel sick please stay home and report your situation on the following website:
1.Faculty and Staff
English link
https://wac.kmu.edu.tw/loginnew.php?PNO=team1016.php&usertype=per&paras=E
2.Assistant
English link
https://wac.kmu.edu.tw/loginnew.php?PNO=team1016.php&usertype=res&paras=E
3.Temporary worker
English link
https://wac.kmu.edu.tw/loginnew.php?PNO=team1016.php&usertype=tmp&paras=E
4.students
English link
https://wac.kmu.edu.tw/loginnew.php?PNO=stum2906.php&usertype=stu&paras=E